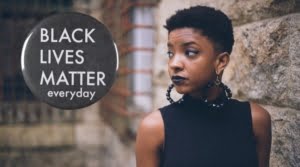 Before we jump into anything I would first like to acknowledge that yes, I am a white woman writing an article on BLM (and the irony of my last name is not lost on me either) and I do not intend this piece to be an intrusion into black spaces or to act as an assumption that I understand the black experience in America. This is mostly an informational article in which I provide various mental health resources for the black community and some background information on why these resources are much needed. I also want to acknowledge that this article, to some extent, talks about traumatic experiences within the black community and may be very triggering for some. Please proceed with caution and if any moment you need to stop reading please do so. With that in mind, we continue.
The year 2020 was a time of extreme change, one of those changes was the increased popularity of the Black Lives Matter movement over the summer months. BLM and its message was prominent across news stations and social media, and protests were occurring across the county demanding justice for black lives lost to police brutality and racist systemic policies. Some were drawing parallels to the Civil Rights movement of the 1950s and 60s, and these parallels weren't difficult to make considering the increase of Martin Luther King Jr. quotes you saw scattered everywhere you looked. A lot of good change came from this movement, and a lot of awareness was gained by people who have otherwise been very sheltered within their privilege. However, there were some critics of this increased popularity; many people across social media and various news platforms were claiming that it was only popular because it was trendy, and the protests and acts of social justice would soon die out. These critics weren't entirely incorrect. A fire was lit under the social justice movement the summer of 2020 and that fire has appeared to fizzle out as new trends take over.
At Capital EAP, we are dedicated to making sure that a message of equality and equity is spread, in addition to being implemented both in our company and society as a whole. That's why we wanted to take a moment to acknowledge that black lives do still indeed matter. Just because you do not see in in the news or on your timeline anymore there are black people being killed across the country, and these numbers only increase when you dive into the death rates of the black LGBTQIA community. The average lifespan of the general American population is about 78.5 years old; black trans women have an average lifespan of 35 years (and they are not dying of natural causes). Let that number sink in for a minute. This barrage of deaths and the systemic and systematic nature of racism contributes greatly to the trauma experienced by the black community. That is why it is incredibly important that we focus on black mental health.
As of 2020, about 13.4% of the American population identifies as black or African American and of those 13.4%, about 16% of individuals reported experiencing a mental illness within the past year. That may not seem like a lot when you just look at percentages, but that is over 7 million people who have struggled with mental illness within the past year. Historically, and even in modern day, it has not been easy for black individuals to seek out or even find mental health resources. The field of mental health and Psychology has a very dark history of racism and sexism that contributes to this lack of resources, in addition to mental health stigma experienced both in and outside of the black community. We've compiled a list of resources that are specifically garnered toward black and BIPOC mental health, including local resources within the Capital Region. We hope these resources can provide you with the right direction towards nurturing your mental and emotional health.
Online Resources
https://therapyforblackgirls.com/
https://therapyforblackmen.org/
Black Mental Health Matters
https://blackmentalhealthmatters.carrd.co/
https://www.mhanational.org/issues/black-and-african-american-communities-and-mental-health
African American Therapists in Albany, NY
https://africanamericantherapists.com/african-american-therapists-directory/african-american-therapists-east-coast/african-american-therapists-in-albany-ny/
Black Mental Health Alliance
https://blackmentalhealth.com/
https://www.melaninandmentalhealth.com/
Local Agencies
http://www.inourownvoices.org/
https://root3dhealing.com/#root3d
https://mylegacynyc.com/meet-our-team
Ready Counseling (Schenectady, NY)
https://www.readycounseling.org/?fbclid=IwAR3Fs9luP3qWjD_7JMnngXpnjJZC9pAHaMjCjwBmF8BjFtG8aorqHyWXcp4
Trinity Institution – Anger Management group facilitated by a person of color
http://www.trinityalliancealbany.org/
https://choicesconsulting.com/
Capital Counseling – Healing Together Group
Podcasts
Therapy for Black Girls Podcast
https://therapyforblackgirls.com/podcast/
https://www.justdavia.com/podcast
https://www.melaninandmentalhealth.com/category/between-sessions/
https://soundcloud.com/user-669614435
The Mindful Muslim Podcast
https://inspiritedminds.org.uk/blog/mindful-muslim-podcast/
What's The Remedy? Podcast
https://soundcloud.com/whatstheremedypodcast
Books
Bipolar Faith by Monica A. Coleman
Willow Weep for Me: A Black Woman's Journey Through Depression by Meri Nana-Ama Danquah
I'm Telling The Truth, but I'm Lying: Essays by Bassey Ikpi
Heavy by Kiese Laymon
My Grandmother's Hands: Racialized Trauma and the Pathway to Mending Our Hearts and Bodiesby Resmaa Menakem MSW, LICSW, SEP
Soothe Your Nerves: The Black Woman's Guide to Understanding and Overcoming Anxiety, Panic, and Fearby Dr. Angela Neal-Barnett
The Color of Hope: People of Color Mental Health Narrativesby Iresha Picot
Invisible Man, Got the Whole World Watching: A Young Black Man's Educationby Mychal Denzel Smith
Black Pain: It Just Looks Like We're Not Hurtingby Terrie Williams
Too Heavy A Yoke: Black Women and the Burden of Strength by Chanequa Walker-Barnes
The Unapologetic Guide to Black Mental Health by Rheeda Walker
Media
Home
Waiting To Exhale
Sorry To Bother You
The Soloist
Poppy Shakespeare
Moonlight
Tangerine
Frankie & Alice
Contamination – A Short Film
Out of Darkness
Unsound – A Short Film
All The Bright Places
Black Mental Health Matters
https://www.youtube.com/watch?v=meHVNJ5Y05g
Mental Health Within the Black Community
https://www.youtube.com/watch?v=H96BP91-6sE
Changing Views on Mental Health in the Black Community
https://www.youtube.com/watch?v=czGblnXTx8M
Rheeda Walker Talks Black Mental Health, Overcoming Your Weaknesses, Suicide Crisis and More
https://www.youtube.com/watch?v=2TAjwmLM07k
https://www.youtube.com/watch?v=uCGBpuxBN1g
Healing Together Group with Capital EAP
Healing Together is a group of community members addressing & confronting systemic racism. We meet every 2 weeks on Tuesday evenings at 7pm EST. Join this group using the following link below:
https://www.facebook.com/groups/670830940255250
By, Marion R. White, MHC-LP, Senior EAP Counselor