Many things have changed since the unwelcomed arrival of COVID-19, disrupting our daily schedules. Some of us are now working from home or not working at all, which causes quite a bit of stress. The sudden shift in routine could mean that some of us lost something we used as a release and stress-reliever: going to the gym. With gyms and studios temporarily closed, what does that leave us with? Working out from home.
Working out from home is not something that is new, but it is something that has picked up since social distancing and self-isolation was put into place. Many of us feel iffy about this because we have so much going on already, that adding a workout into the mix feels like too much. It is important to set some time aside to get some exercise in—even if it is just a light jog or walk around the neighborhood. The American Psychological Association recommends developing a daily routine and maintaining a healthy lifestyle including physical activity.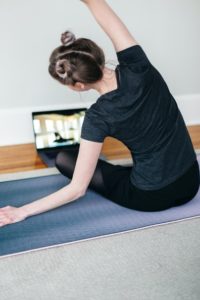 Those of you who didn't necessarily workout before, this may be your time! There are lots of different ways you can get your blood pumping from the comfort of your living room floor. Here are a few FREE resources you can use to get started:
Bandier, a woman activewear shop, streams at-home workouts in their Instagram page every day at 4pm.
Lululemon, an activewear shop, hosts a "Move and Stay Connected" campaign where a different Lululemon ambassadors streams a different workout routine a day—also on Instagram.
Nike NTC Training Club App—Nike has opened up premium access to all members for FREE (until further notice). You can choose from hundreds of class-style workouts, program and expert tips of nutrition, sleep, etc.
YouTube!! There are thousands of free workout videos at your disposal. You can look up specific workouts targeting arms, legs, back—you name it! They also have great yoga videos for early morning stretches or a late-night meditation.
Those who previously worked out and those who have decided to start now can benefit from these resources.
Getting any form of physical activity into your daily routine can have a huge impact on your physical and mental health. Those who exercise regularly tend to feel a sense of well-being, but there is a biological reasoning for this. Exercise promotes all kinds of changes in the brain, including neural growth, reduced inflammation and it even create new activity patterns that promote feelings of well-being and calm.
Working out may seem intimidating, especially with all the societal pressures to use this time to get fit.  Set a goal for yourself and schedule workouts/yoga sessions, same way as you would a meeting; routine is very important when working out. Now more than ever, it is important to apply the power of positive thinking. Take this time to work on yourself, whether that be by choosing to exercise or establishing a time to truly relax; your body will thank you either way!
By: Hilary Paredes, MHC Intern