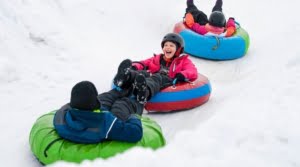 The weather is getting colder and colder, leaving many people at home with the same question, "What do I do with these kids now that they're home from school!?" Even with the snow falling, there is still so many things you can do to keep the kids busy, but still do your part with keeping safe from COVID.
Get outdoors and play (socially distanced, of course!).

From sledding, to snow angels, to building igloos and snowballs fights galore! Just because the warm weather might have disappeared doesn't mean the fun has to stop! Break out the hot cocoa and get exploring the outdoors when it's arguably the most beautiful, covered in white snow. Why not have a challenge with the people in your household to see who can build the cutest snowperson!?

Enjoy the tastes and smells of winter.

Winter is full of so many unique smells and tastes, now is the chance to indulge in them all. Get creative in the kitchen and try out a homemade hot chocolate recipe. Don't be afraid to stray from the traditional and add in whatever yummy ingredients you might have laying around (like a spoonful of peanut butter). Or, create a new tradition and have the kids help you bake great grandma's famous chocolate chip cookies. If you're really feeling brave, have everyone run out side and grab some fresh snow to make a true snow cone!

Get crafty!

There are so many winter crafts to do at home, even if you aren't a professional artist yourself. Get back to the feeling of when you were a kid and have the whole family turn the house into a winter wonderland by making paper snowflakes. Or, think outside the box and make a homemade birdfeeder with some birdseed, peanut butter and pinecones to hang by the window and watch your new friends. Do you have some extra toilet paper rolls hanging around? Recycle them into a cute toilet paper snowman! Don't be afraid to play around with the odds and ends you have laying around the house.

Take some time to slow down.

Don't be afraid to slow the pace back down a little bit and savor those quiet moments. Take your hot cocoa to a chair by the window and have everyone watch the snow fall down. Start a new tradition by having everyone dress in their favorite pajamas and camp out in the living room with cozy blankets and take turns reading from your favorite books. If you want to keep the fun flowing, print off some coloring pages for the whole family and have a coloring night. Or, bust out the cards and board games and see who the household's true UNO champion is (just try not to be surprised when you're losing to your six-year-old).